Accessible First Aid Solutions
Accessible First Aid Solutions: The Inclusive Design of Easyaid Products
Emergencies can strike when least expected, making it imperative for individuals and families to be equipped with essentials in the First Aid Box. The right equipment can provide immediate relief and be a life-saver in some situations.
In this article, we'll delve into accessible first-aid solutions that every household should consider having in hand.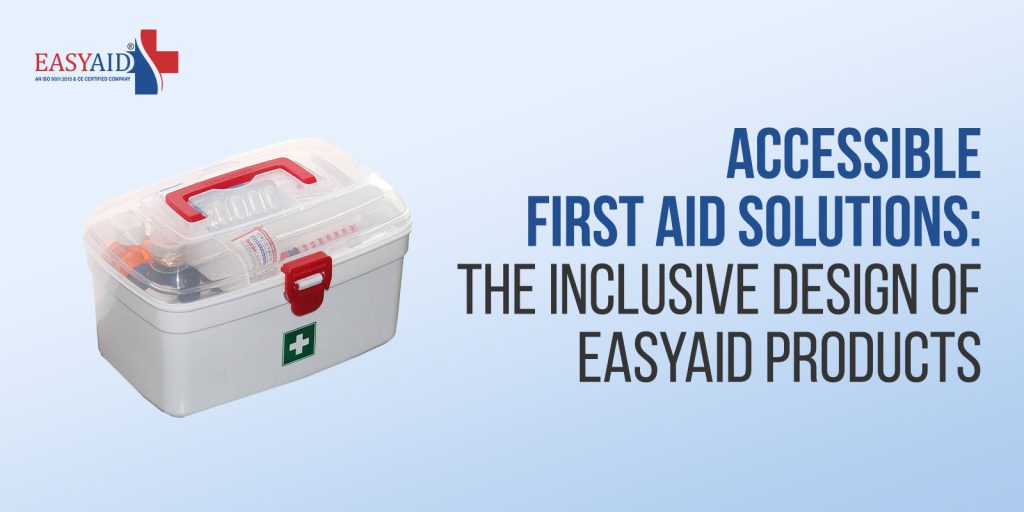 Nebulizer –
A Nebulizer Machine is a device that converts liquid medicine into mist, allowing it to be inhaled into the lungs. It's especially beneficial for those with asthma, COPD, or other respiratory conditions by delivering medications directly to the source of inflammation. It provides rapid relief from acute symptoms.
Key Features:
Portable designs available
Suitable for both adults and children
Often used with bronchodilators or steroids.
Gloves –
Medical gloves act as a protective barrier between the caregiver and the patient, preventing the transmission of infections. They are essential when dealing with open wounds, body fluids, or when administering first aid. These are designed hand-specific and ensure a good fit with softness and comfort. Easy Aid Medical provides the following different types of gloves –
Latex Powdered Gloves
Latex Powder Free
Nitrile Powder Free
Vinyl Powder Free
Surgical Sterile Gloves.
Mask –
Disposable Face Masks serve a dual purpose. They protect the doctors from airborne pathogens and prevent them from spreading their germs, especially when coughing or sneezing. The masks are made with high filtration material, light weight, and have easy breathability and water resistance.
Key Features:
Different types include surgical and N95 masks
Should cover both nose and mouth effectively
Single-use or washable options are available
Digital Thermometer –
Monitoring body temperature is essential in assessing a person's health. A thermometer provides an accurate reading, helping determine if one has a fever, which can indicate an infection. Fever Alarm & Beep Function will alarm you with high body temperatures. These thermometers are used to measure temperature and display readings on a screen.
Key Features:
Varieties include digital, infrared, and mercury-based
Suitable for oral, rectal, or underarm measurements
Some models provide instant readings
Crepe Bandage –
These elasticized bandages provide support to sprained or strained limbs. They're also helpful for holding dressings in place or providing mild compression to reduce swelling. It is best suited for Musculoskeletal injuries and is super soft and comfortable in material. It is helpful in all orthopaedic and general use.
Key Features:
Stretchable material allows for varying tension
It can be secured with clips or adhesive
Reusable after washing
Hot/Cold Bag –
Hot/cold bags serve as immediate remedies for injuries. Cold therapy is essential for fresh wounds, reducing inflammation and numbing the area, while heat therapy can soothe muscle pain or cramps. These are available in electric or rubber, which helps you eliminate the fear of the hot water gel spilling on your skin.
Key Features:
Often gel-filled for retaining temperature
It should be wrapped in cloth before applying it to the skin
Efficiently heated in microwaves or cooled in freezers
Steam Inhaler –
Steam inhalers provide relief from congestion, cold, or sinus issues. They produce steam that moistens the respiratory tract, loosening mucus and making breathing easier. As the season changes, we often catch colds or viral and suffer from cough, sneezing, allergy, throat pain, etc. Generally, the vaporizer steamer inhaler machine is for coughs and colds for kids and adults.
Key Features:
Compact and portable
Suitable for adding medicinal vapours or essential oils
Provides quick relief
Microporous Tape –
Medical tape is essential for holding dressings or bandages in place. It's breathable nature ensures that the skin underneath remains healthy. The tape has 3 variants: 1-inch, 2-inch, and 3-inch. These are gentle on the skin, secure your bandages and tubes, and are adhesive.
Key Features:
Easy to tear by hand
Hypoallergenic options available
Sticks well but also removes cleanly
Blood Pressure Monitor –
Monitoring blood pressure is essential for those with hypertension or cardiovascular issues. An at-home monitor provides instant readings, helping track one's health. It is excellent for home use, especially when you need to take lessons by yourself. It is a perfect way to manage your health while sitting in your comfort zone.
Key Features:
Digital Monitors are easy to use
Equipped with memory to store past readings
Should be calibrated regularly for accuracy
Being prepared for emergencies begins at home. Equipping oneself with accessible Health Care Products ensures that immediate and effective care can be provided when the need arises. While this list is comprehensive, always consider individual needs and consult healthcare professionals regarding the correct use of these tools. In the pursuit of health and safety, being proactive always pays dividends.